We have gifts that differ according to the grace given to us: prophecy, in proportion to faith; ministry, in ministering; the teacher, in teaching; the exhorter, in exhortation; the giver, in generosity; the leader, in diligence; the compassionate, in cheerfulness.  Romans 12:6-8
We have a new model for the Ministry Fair.  It begins with Pentecost and the Gifts of the Holy Spirit.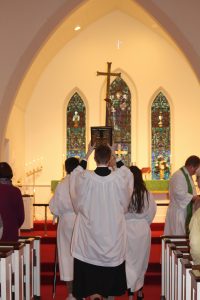 The Ministry Fair was a brilliant concept and it served its purpose in its day.  It has been a constant on the parish calendar for thirty years or more.  Always held in September, it held the premise (or myth) the congregation took a break from church during the Summer.  The Fall was a time to "come back to church."  Maybe that myth was true before air conditioning.  The Ministry Fair was an opportunity to celebrate all our various ministries and "sign up" for the coming year, as if church was on an academic calendar.  Lately, we have not been getting the volunteer sign ups from the Ministry Fair we used to enjoy.  It is hit or miss if a potential recruit attends church on September 9, 2018.  What if a person wants to help with Gifts to the Christ Child in December, but they miss the Ministry Fair in September?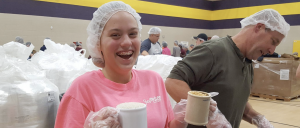 We are redesigning the way we recruit new volunteers for ministry opportunities, from Acolyte to Under One Roof Food Pantry.   This means we are rethinking the Ministry Fair. In fact, we will not conduct the Ministry Fair next September.  My point is recruitment should be ongoing throughout the year, as it is with Girlfriends in God.  If we only push for volunteer sign ups one Sunday per year, we are blind to the Holy Spirit.  Potential recruits may feel inspired anytime.
This Pentecost will be a Sunday to push the opportunities for Ministry.  The Choir and Sunday School Teachers will be recognized and thanked for their ministry.  The service bulletin will include a sign up sheet for new volunteers in all ministries.
Volunteer sign ups will be available on the parish website 24/7.  Anyone with an email or phone number can sign up online (beginning with Pentecost Sunday). The inquiry will go directly to the parish office.  From there, Dawn, our parish secretary, will notify the appropriate ministry chairperson and a conversation begins.  You may have questions.  You wish to commit and you want on the schedule.  Or, you may need training.  Seasonal ministries, like Christmas activities, will obviously experience a rush of sign ups during the season with little activity the rest of the year.
Please take a look at the ministries available to you.  Sign up and use your gifts.  We need you.
Volunteer
Peace, Paul
Hint:  be sure to scroll down inside the Google Form…
Loading…