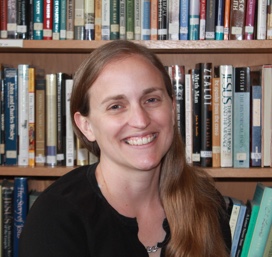 The vestry has created a new position on the ministry staff.  Jennifer Vasquez will serve as the Director of Christian Formation. This is an expansion of Jennifer's former position as Director of Christian Education.  It will now include outreach ministries.  Specifically, Jennifer's job duties have increased by 50% time and salary.  She is now ¾ time at 30 hours per week.  Click here for Jennifer's reflection on her new role.
The Episcopal Church defines Christian Formation as the lifelong process of growing in our relationship with God, self, others, and all creation. Every experience in our lives can provide us with the opportunity to express our faith; the challenge we face is recognizing these opportunities and learning ways to live a sometimes countercultural life in a secular world.
My doctoral studies taught me a clear distinction between a disciple and an apostle.  While similar and often used the same way, they are not the same thing.  To be a disciple is to be a learner, a student.  An apostle is a witness to the resurrection.  Judas (who betrayed Jesus) was a disciple, but never an apostle. Paul was an apostle from the beginning of his ministry.  (I imagine he was also a learner at some point, but he never focuses on that.  He called himself an apostle for Christ.) Anytime we do ministry, we witness the resurrection because we are sharing the gospel through words and actions. The point here is that Christian formation is both discipleship and witness.  Witness is mission.  Anything we do in ministry, whether worship or outreach, is mission work because we share God's love through Jesus Christ with others.
There is much overlap between Christian education and outreach, just as discipleship and apostleship are so closely intertwined.  Evidence of the overlap has been witnessed this past year in the JUST ASK series (Adult Sunday School, 9am Sunday mornings).  The lecture series has focused on the Episcopal Church's national curriculum for public policy.  JUST ASK studied the environment, mass incarceration, mental illness, institutional racism, immigration reform, and more.  Now that we have spent a year talking "about"advocacy, many in the congregation want to "do"advocacy.
The vestry has asked Jennifer to promote the episcopal advocacy priorities (found here:  https://advocacy.episcopalchurch.org/?0 ).   There are too many priorities for us to engage them all.  So, Jennifer will be working closely with the outreach committee and vestry to focus "our"priorities.  To be clear, this is not Jennifer's agenda.  Each of the "priorities" are authorized by Generation Convention resolutions.  The outreach committee must choose.  We already have a focus on food and hunger, evidenced in Under One Roof Food Pantry.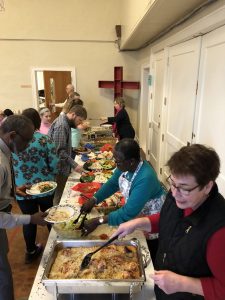 An example of the work the outreach committee has already engaged with Jennifer's leadership is immigration and refugee resettlement.  They are listed among the top priorities for the Episcopal Office of Government Relations (see link previous paragraph).  And Jennifer has been heavily involved in these ministries as chair of the Diocese of Ohio's Commission for Racial Understanding, Toledo branch.  We hosted a refugee welcome party back in April. We had many volunteers from St. Paul's help with the event.
There is political tension here.  Some members of the congregation may disagree, or see advocacy with trepidation.  We are not promoting one party over another.  Jesus gave us a mandate to promote peace and justice.  This means advocacy for the poor and oppressed. Loving our neighbor means advocating for the marginalized in society, especially for those who cannot advocate for themselves.  Again, we must choose our priorities because we cannot do everything.  But the choice might come with cost.  Each of the priorities comes with challenges.  They are all hard.  I believe peace and justice are non-partisan.  They are Christian values.  We are adults.  We can work it out.
Don't forget to offer your blessing to Jennifer. I am very excited for her new ministry, even if it is not that new.  She has been doing outreach her whole life.  Again, see her reflections here.
I encourage you to engage the outreach ministries soon coming to St. Paul's.  I wish I could tell you what they are…. But maybe you can join the team and tell me….
Peace, Paul+