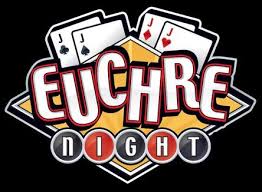 Euchre Nights!
Join us for Euchre.  Saturdays, March 16 & April 13, at 7pm.  We will be in the Parish Hall.  All skill levels are welcome.  This is not a tournament, but a social gathering.  Some of us serious, some novice. Everyone wants to have fun.


Dining for Women
Thursday, April 11 @ 6pm
(No meeting in March due to Toledo-wide gathering)

All women welcome to come for soup and an opportunity to learn more about the grant projects that receive funds from Dining for Women. Please see Karen Smith with any questions!
Walking Group
After taking off most of February due to icy conditions and closures at Sidecut Metropark, we will attempt to meet in March on Saturday mornings at 9 AM at Sidecut at the parking lot next to the playground on the river side. All are welcome to join at any time, though you might wish to watch the Christian Education Facebook page for any late cancellations due to weather. You can also contact Jennifer V and get on the e-mail list so that you can keep on top of last-minute changes.
Lunch Connection
This is a group of people who are interested in reaching out to others within our parish to spend time building relationships. If you are interested in participating, please contact Jennifer V for more information.