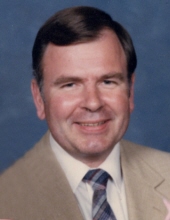 Charles "Chuck" Edwin Allen, Jr. was surrounded by family and his wife, Gloria, as he peacefully passed from this earth to his final home on Wednesday, April 28.
Born in 1941, in Columbus, Ohio, Chuck was raised by Charles and Claire Allen in a home on Lane Ave. He was a graduate of The Ohio State University where he met the love of his life, Gloria Ransdell. The two eloped in 1965, and have been side by side ever since. Chuck and Gloria moved to Maumee, in 1972 where they raised five children. Chuck was a devoted spouse and loving father. He was a family man who loved to take his brood on camping trips, long hikes to explore nature and sunrise walks along the Maumee River. He was an avid Buckeye fan to the end.
Chuck was a mainstay at St. Luke's Hospital for 40 years holding the title Chief of Nuclear Medicine. Known by his trademark suspenders, he was highly respected by coworkers and patients alike.
Chuck was a man of faith and a member of St. Paul's Episcopal Church where he served as a vestryman, chalice bearer and acolyte. He was a good friend to many, a storyteller, always willing to lend a helping hand or an understanding ear. He was the Scoutmaster for Boy Scout Troop No. 32 where he mentored many to the rank of Eagle Scout and led two expeditions to Philmont Scout Ranch in New Mexico.
Throughout his final extended illness, Chuck was cared for by the compassionate and dedicated staffs at the Lakes of Monclova and Hospice of Northwest Ohio. He never lost his spirit.
Chuck is survived by his wife Gloria, daughters JoAnn Allen, Lori Lawrence (Dan), Katherine Hazard (Dan); and sons Charles III Allen (Kelly Buck) and Todd Allen (Seema). He is also survived by his sister, Mary Jo Carlos (Don) of Columbus, other extended family members and his nine grandchildren; Lindsay Wilkerson (Alex), Lydia Lawrence, Claire Lawrence, Daniel Hazard, Anna Allen, Rebekah Hazard, Grace Allen, David Hazard and Thomas Hazard.
A private service will be held on Friday, May 7.
The family suggests that any memorial donations be made to St. Paul's Episcopal church, 310 Elizabeth St., Maumee, OH 43537.
To send flowers to the family or plant a tree in memory of Charles Edwin Allen please visit our
Tribute Store.