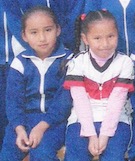 Scholarships for Colegio Miguel Pro Students
Tacna, Peru 
Enjoy the video of Peruvian students celebrating
the 28th year since the founding of their school! 
January already, the month that St. Paul's parishioners have faithfully created scholarships for worthy students and their marginalized families trying to survive on $2.00 a day in southern Peru. At 30 seconds into the video, note the side by side cinderblock homes circling the school, creating a neighborhood. These are homes without heat or air conditioning, stoves using a propane tank, only cold water, cement floors, the very best parents can do for their children.
Over the years, 2003-2020, $74,533 has been donated by St. Paul's parishioners for student scholarships. This amount has enabled us to support a class of about 30 students through their K-12 educations, and we are now in our second round of repeating this trend. Scholarships are just over $100 and cover the cost of tuition, a uniform and books, literally a bargain when considering the cost of private schools in the USA. No middleman has his hand in our scholarship donations; all money is wired directly to the school.
In this awful pandemic year, a time when you and your family may be struggling, please take care of yourselves. For those of you who are able, any amount toward scholarships is welcome. St. Paul's has two ways to donate: by check with Peru on the memo line, 310 Elizabeth Street, Maumee, Ohio 43537; or online at St. Paul's Episcopal Church, Maumee, Ohio. At the center of the top of the webpage in the blue band, click Give Now; Peru scholarship is a choice in a dropdown.
Gratefully,
The Pawuk Family