We hope your teenager can attend many of these exciting activities! Please take a look and mark your calendars. There are events for middle schoolers and high schoolers. Many of the events are combined age ranges. Middle School is grades 6-8. Senior High is ninth grade thru graduation.
Confirmation classes are ongoing for youth in eighth grade and up. Classes will be held twice per month on Sunday evenings. The Confirmation service is Sunday, September 15 at 10am. Please sign up with Jennifer Vasquez.
May 5: Graduate Recognition Sunday. Please get your seniors on the list and get them to church May 5 for a reception in their honor.
June 4-6: Middle School Camping at Maumee Bay State Park. This includes rising sixth graders and any high schoolers that are interesting in helping. The outing will involve tent sleeping with an RV basecamp. Bring bicycles. The event will conclude with a parent and sibling picnic at Maumee Bay State Park near the inland lake. Sign up with Paul.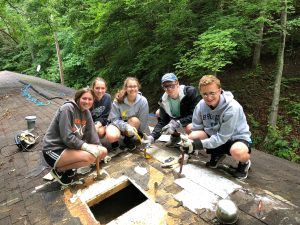 June 9-14: Senior High Mission Trip to Beattyville, KY. Sunday through Friday. Rising ninth graders are invited. Church on Sunday, June 16 is expected. The registration cost is $150 for each youth. Sign up with Paul as early as possible for planning. click here for more info
June 17-21: Music Camp for middle schoolers, and some younger kids. The show will be at the Maumee Indoor on Friday, June 21. click here for more info
June 24-28: Vacation Bible School. Teens are needed for volunteer leaders Monday – Friday in the mornings. Sign up with Jennifer. click here for more info
September 15: Confirmationservice with Bishop Persell.