The 2018 Youth Mission Trip was a great success!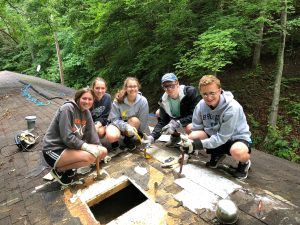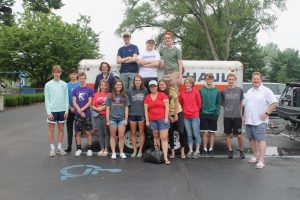 We traveled to Beattyville, Kentucky the week of June 10.  We had fourteen kids and two chaperones, Lori and me.  Normally the girls double up in the bunks,  This was the first time we had more boys than beds.  So they got the air mattresses this year.
Carol lives in a double wide mobile home.  it is unclear when exactly, but sometime around 2014 a storm dropped a branch through her room and into her bathroom.  she has been living with a hole in her roof (and ceiling) for four years.  The kids fixed both holes.  She also had a rotten floor at the backdoor in the laundry room. The kids replaced rotten joists, sub flooring, and laid new vinyl.
Sherry lives in a mobile home with a leaky roof. It is very old.  I believe the roof leaks everywhere.  I am not sure if we were successful, but we tarred the roof and caulked all the windows.  Sherry lost her husband to cancer in May.  She was very appreciative of our efforts.  We pray for both Carol and Sherry as there were delightful people and their needs were acute.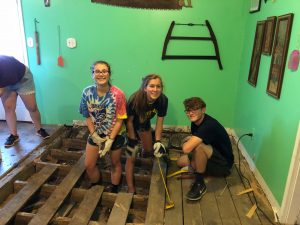 Our group this year had four sets of siblings.  The participants were Patrick, Corey, Eric,Leah, Hannah, Megan, Gwineth, Juliet, Kendal,Karl, Michael, Jack, Branden, and Ben.  Lori and Paul Board chaperoned.
Who paid for the mission trip?  St. Paul's paid for everything.  There were several funding sources, but it all came from our parish.  We paid a registration fee to Kentucky Small Farms Project and the money was used to purchase the construction materials.  We took our own food and prepared it ourselves.  The parents paid a registration fee for each kid.  Money came from vestry and the Schwier-Lamb Endowment.  There were small fundraisers run by the youth group throughout the year.  And there were some private donations.
Congratulations to a great group of kids and a great week!  We are all very proud of their accomplishments.  Please check out the video.  It say more than I can writing about it.