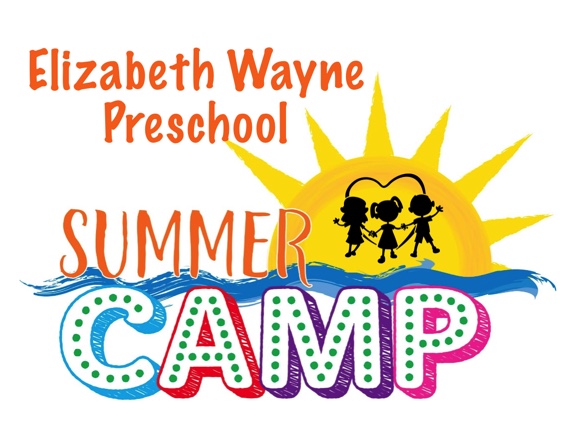 Elizabeth Wayne Preschool is excited to invite your child to join us for a fun filled summer!  Our camps will offer numerous educational activities with a core basis in S.T.E.A.M. (Science, Technology, Engineering, Art and Music).  Your child will be encouraged to build, create, experiment and problem solve while having fun.  These camps will offer preschool and kindergarten readiness to help students transition from summer to fall. 
Each week is open to children ages 3 years old to 6 years old. Two topics of interest are given for each week, please choose one. Online registration opens February 7 at ewpreschool.org. Campers may register for as many weeks as their summer schedule permits. A discount will be provided for those registering for all six weeks.
Hours:
9:00am – 12:00PM, Monday -Thursday (Except camps May 31-June 3, will run Tuesday – Friday)
Pricing:
Six Camps: $600
Weekly: $125
Camps:
May 23 – 26
The Great Outdoors
Ready to go on an adventure?  This week we will explore all things camping!  From making s'mores to telling camp fire stories, we are sure to have a great time!  
Zoo Safari
Ever wonder what it is like to be a zookeeper?  This week we will find out what it takes!  We will have fun learning about animals and all the ins and outs of taking care of them.  
May 31 – June 3
Under the Sea
Life is beachy at EWP! Put on your sunscreen and grab sunglasses and get ready to  make sandcastles and build ships to sail the ocean seas! Keep and eye out for pirates…ARGGGG!
Construction Week
Get ready to build and demolish!  During construction week students will build with their imagination. Doesn't matter if they're building the tallest tower or the kookiest city, students will create their dreams!
June 6-9
Art Attack! 
Calling all artists!  This week campers will be bring out their inner Picasso and explore colors in new and exciting ways.  Get ready to create a masterpiece!
Dinosaurs Rock!
We will step back into time as we explore dinosaurs. Through dinosaur egg hunts, fossil digging and much more, your child will leave summer camp with Dino-Fever!
June  13-16
Space Adventure
Three, two, one…blast off!  Camp this week is sure to be out of this world!  Campers will build a space ship to travel the galaxy and discover the great unknown!  
Gardens and Worms
Campers will use their green thumb to plant a garden.  They will learn about how worms and other insects help the garden to grow.  They will also have a chance to taste test some homegrown foods.
June 20-23
Sport Madness
This week campers will have a chance to try many different sports!  Campers will have a chance to play new games while learning about how being active is good for our bodies!
Pets
Have a pet?  Want a pet?  Campers will learn about different household pets and how to take care of them.  There are sure to be some surprise visits this week!  
June 27-30
Heroes!
Everyone loves a super hero!  This week, campers will learn about heroes amongst us!  We will take about our local heroes and how they help our community.  We will discover how we can be a super hero!
Pizza Party!
Let's make some pizza!  Welcome to EWP Pizza Palace where campers will run their own pizza shop.  Come and make your own pizza pie!
To register click here.