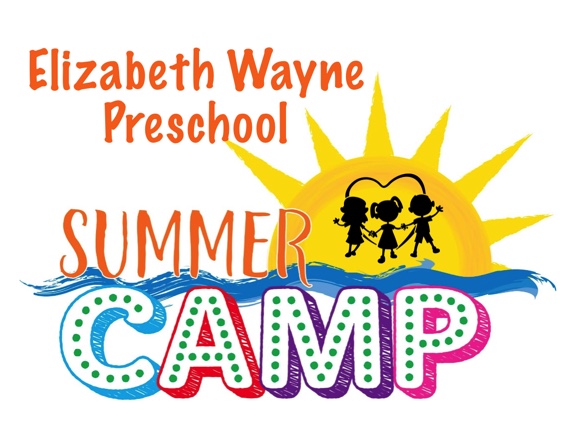 Coming Summer 2019!
Elizabeth Wayne Preschool is excited to invite your child to join us for a fun filled summer!  Our camps will offer numerous educational activities with a core basis in S.T.E.A.M. (Science, Technology, Engineering, Art and Music).  Your child will be encouraged to build, create, experiment and problem solve while having fun.  These camps will offer preschool and kindergarten readiness to help students transition from summer to fall. 
Summer Camp will run for six weeks between June and July. Each week is open to all current and incoming EWP students. Students must be potty trained and all enrollment and medical forms must be up to date. Campers may register for as many weeks as their summer schedule permits. A discount will be provided for those registering for all six weeks. To register your child click here.
Weeks:
June: 3-6, 10-13, 17-20
July: 8-11, 15-18, 22-25
Hours:
9:00am – 12:00PM, Monday -Thursday
Pricing:
Six Camps: $600
Weekly: $125
Summer Camp Daily Schedule
9:00-9:30: Daily Welcome! (Ice Breakers and Camp Songs)
9:30-10:30: Daily STEAM Activities
10:30-10:45: Snack
10:45-11:30: Large Motor Activity (Games)
11:30-12:00: Outdoor Free Play* & Pick-Up
*Water play will also be offered twice a week. Teachers will notify parents on which days they will be held, and campers will be expected to wear his/her swimsuit to camp.
Construction Week (June 3-6)
Get ready to build and demolish!  During construction week students will build with their imagination. Doesn't matter if they're building the tallest tower or the kookiest city, students will create their dreams!
Let's Bake              (June 10-13)
Mud pies or chocolate pies? During this week students will become master chefs and create their own delicious delectables! Whether they are using real baking  ingredients or mud from outside – your child will have a great time!
Dinosaurs Rock!    (June 17-20)
We will step back into time as we explore dinosaurs. Through dinosaur egg hunts, fossil digging and much more, your child will leave summer camp with Dino-Fever!
A Bug's Life!           (July 8-11)
They're creepy and they're crawly – it's a bugs life! Join us as we search for insects and learn about what they do. There is no bug too creepy or crawly for us to learn about.
Going to the Beach (July 15-18)
Life is beachy at EWP! Put on your sunscreen and grab sunglasses and get ready to  make sandcastles and build ships to sail the ocean seas! Keep and eye out for pirates…ARGGGG!
Camping!                 (July 22-25)
Our finale week we will wrap up with a camping adventure. We are bringing the woods to us as we build tents, tell stories and eat s'mores. This will be our summer farewell at EWP!