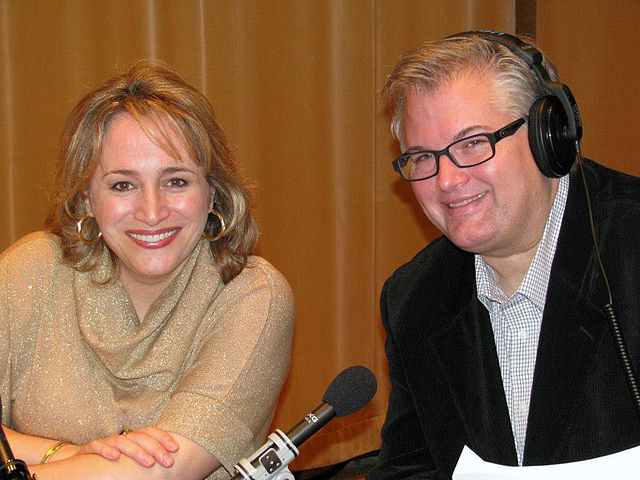 As you may know, I've been associated with the Metropolitan Opera for well over a decade now, appearing on their Quiz feature during intermission. I'll be marking my 15th year with the Met (not counting covid) when I return this year as a panelist for the Quiz on March 18th.
I began as a scriptwriter for the Met Opera broadcasts around 2006. These were for the archived broadcasts which aired on the Sirius satellite network, so we had to do a lot of research. Not so much about the opera at hand (which we were expected to know), but about that particular performance: the singers, the weather, current events, etc., etc. – you name it. The idea was to create an experience that placed the listener in the same headspace as audiences at the time. As you can imagine, that was a rather daunting challenge. Just as challenging (if not more so) was my first appearance on the Met Opera Quiz as a panelist.
I should probably rewind a bit and explain my connection there: before coming to WGTE, I worked for several years at WNYC radio in New York when they carried classical music (nowadays they are an all-News & Talk station, WQXR handles classical). One of my duties was writing host scripts for WNYC's Margaret Juntwait, who went on to host the Metropolitan Opera broadcasts until her early death in 2015 from ovarian cancer. Margaret was a remarkable soul, and she was an early champion of mine. It was her that recommended me to the Met in the first place, and helped to get me on the air.
Many memories stand out during my time on the quiz. I've had the pleasure to work with many talented Met singers and many smart (much smarter than me) opera buffs and colleagues. One memory that stands out in particular was the time we had the wonderful soprano Patricia Racette on the quiz. Now, the one thing you fear in radio is dead silence. Things not going according to plan – and not having a back-up. That's exactly what happened that day (mind you, we're always live on air). I don't remember the specific opera that it was, but I do remember what happened (and what we weren't prepared for).
Evidently there was a "technical problem" with the set that delayed the start of the next act by a good 20 or 30 minutes. That meant the intermission was going to be longer than usual – much longer, in fact. Our intermission. In other words, we had to vamp for a good 20 extra minutes once we ran out of questions and games. And I only found out through my headset while we were in the middle of the quiz. I was the host that day, so that meant I was the one responsible for shepherding us through that particular storm.
As it turned out, Ms. Racette was more than up to the challenge. As it has been for some time, a discussion feature is an important part of the quiz, usually focusing on the guest singer. So, when it came time for our discussion (we usually only get in one or two questions before we run out of time), I simply interviewed Ms. Racette (or "Pat" – as she insisted we call her). And she had a lot to say, especially about how a singer approaches new works (she was well known for her work in contemporary opera). I simply had to interject a follow-up question here and there while she did almost all of the talking. And with every tick of the clock I began to relax more and more, until that magical, disembodied voice came over my headset telling me time was up. In retrospect, I wish we could have had another hour for that discussion with Pat, she was so good.
That was a bullet-dodging moment for me, thanks to a verbose and opinionated (in a good way) singer. I can't say that has happened since then, but I don't walk onto that stage in Liszt Hall without my heart skipping a beat or two.
So, I do hope you'll tune in to FM 91 on March 18th for what promises to be a powerhouse new production of Wagner's Lohengrin, starring tenor Piotr Beczała. And, listen out for yours truly on the Opera Quiz that day during intermission. I'll be the one waving the WGTE flag loud and proud!