St. Paul's Vestry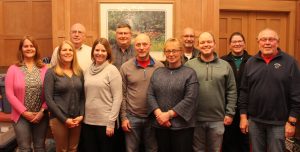 The vestry is our governing body charged with making business decisions related to church activities including budgeting, spending, building and grounds, policies and more. The vestry comprises 12 members elected for three year terms in classes of four. 
Our vestry leadership is Jonathan Ashton, Senior Warden; Jaimie Deye, Junior Warden; Mark Christophono, Treasurer. Our rector, Rev. Dr. J. Paul Board with the Senior Warden, Junior Warden and Treasurer make up the Executive Committee that acts to set the agenda. 
Vestry members whose terms expire in 2021 are Jonathan Ashton, Jim Dorton, Jerry Martz (clerk) and Deno Music.  Members whose terms expire in 2022 are Jaimie Deye, Jennifer Elliott, Adriana McNally and Thomas Weeks. Members who terms expire in 2023 are Mark Christophono, Will Finnegan, Jen Hoelzer and Carol Sachs.
All church committees are formed under the authority of the vestry and are assigned a vestry liaison.
St. Paul's Episcopal Church
Treasurer's report December 2020
BALANCE SHEET
Total endowments are listed at a total of $2,333,457, with the operating endowment showing $578,280.
The Cares Act PPP loan is listed as a liability of $59,300, it is anticipated that we will apply for and receive forgiveness for this at which time it will be removed as a liability and be reflected as income when forgiven.
Market value of investments held at Huntington Bank started the month at $2,332,639 and ended at $2,333,457. An increase of $818, including $37,213 in unrealized gain, $18,736 in interest and dividends earned, $1,630 in fees and $53,502 paid to beneficiary.
INCOME STATEMENT
Pledge payments and gifts were strong this month. Year to date pledges and gifts combined are over budget $16,118. Current month total shows a gain of $53,056 against a budgeted gain of $4,544. Year to date net gain is $120,870 against budget of $54,528. Note again that the software we use "straight lines" all budget items over 12 months, so changes in utility costs and other expenses as well as income lines, particularly preschool payments that tend to come in all at once at the beginning and end of the year, are not reflected in the budget as such. We have transferred $60,000 from the operating endowment this year as reflected on the income statement, and we transferred this amount back to the endowment in early January 2021.
Elizabeth Wayne Preschool is showing a year to date surplus of $14,104 against budget of -0-. Most income and expense lines are under budget due to covid.
Under one Roof has an ending balance of $38,942.
See financial summary for details.
Respectfully Submitted
Mark Christophono, Treasurer – 01/14/21