An Easter Message from the Rector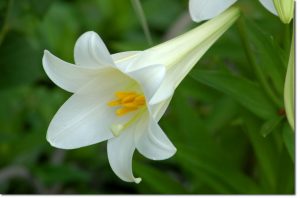 Alleluia! Christ is Risen.
The Lord is risen indeed.
I want to wish you a Happy Easter.  I am grateful to have you all in my life, although we cannot be together for church.  It's strange, but I am becoming used to not being together.  We are together in spirit, in voice, in picture.

I didn't know if I would find the Easter spirit.  I am tired.  Would the joy of Easter reach me?  And it has!  I feel Easter Joy in the midst of our Stay at Home existence.  I insist on being happy!
There are two reasons for my joy.  1) Holy Week is over.  That's saying a-lot.  Holy Week this year was hard, mostly because of the learning curve.  The technology necessary to do ministry in isolation was overwhelming at first.  But we got through it.  Now I can rest for a bit. I am not on vacation because 13ABC wants to interview us tomorrow morning in the Food Pantry.   But for a change, that's not my deadline and I don't have to worry about it.

Reason 2) is deeper and more reflective.  Hope prevails over despair, every time.  Hope always wins!

Let me be clear. What I just said isn't true.  Hope doesn't always win, not for everyone.  Sometimes despair wins.  Especially for non believers.

But for Christians, hope always wins because it is fundamental to our faith.  Despair is the path to death.  Jesus was victorious over death.  The resurrection fuels our hope.  Hope wins every time when you believe in the Risen Christ.

My wife asked me what I would preach for Easter.  I said I didn't know.  At that moment I was feeling despair.  Then Lori said, focus on the good things.  And there are enough good things.  In fact, there are plenty.

I have had my moments of despair during Lent.  The virus is dangerous.  Once you get it, you can't stop the progression.  You might get sick. You might get very sick, You might die.  And there is nothing you can do to undo the progression, except prevent the contagion from ever reaching you or anyone in the house.  Anxiety fuels despair.

I have kept myself up at night worried I might not survive the pandemic.  I am not alone.  I was on a medic run for a woman late in the night.  She couldn't sleep.  She called 911 because she was worried she might have COVID.  We arrived to care for her.  She had no symptoms.  She had not been out of her home in weeks.  She lived alone.  She didn't have COVID. But she did have anxiety and too much TV.  I get it.

I am ok with dying.  I am not afraid to meet Jesus.  I am eager to meet my Lord and Savior.  But I am terribly worried about leaving my family (my wife and kids) behind.  This terrifies me.  Dying feels like abandoning them.  
Cooped up in the house, the Board family became cranky and irritable.  We found our own spaces in the house where we could each be alone, all five of us.  We were all doing our own thing, grieving the old normal.  One night we got into a conversation about something and everyone had an opinion.  Then someone said, "wait a minute, are we really texting each other from different rooms and we are all in the same house?"  It was true.  We compartmentalized ourselves into private spaces.  Old normal meant we were never together as a family of five, even though we live in the same house.  New normal means we can cherish being together.  Now we take walks together. We watch movies together.  We play cards.  We cherish our time together.

There are so many good things that have been happening.  Life can be cherished.  We forget this when we worry too much.

Lori and I have walked everyday together, regardless of the weather.  We only missed one day because the rain was coming in sideways.  A few days ago was beautiful.  Absolutely beautiful.  As we walked down the street, we noticed people had come out of the their houses.  They were sitting on their front porches up and down the street.  Some houses are built for this.  They have front porches.  Some houses don't.  One lady moved her sewing table in the front yard and she was making masks in the sun.

I said to Lori it looked like a scene from the Andy Griffith show.  My kids don't know Sheriff Taylor, or Opie, Barney, and Aunt Bee.  They don't even know black and white television.  People sitting on their front porches watching the neighbors walk by as a form of entertainment is from an age long past.  There are many many changes since those days.  But two important changes are 1) Sherif Taylor didn't have a cable television.  (ironic because it was itself a television show.)  2) Sherif Taylor didn't have air conditioning.  Of course the front porch was the coolest room in the house after supper.  And the most entertaining.

I got a text from Stephanie Mattoni.  She said, "Lent and Holy Week have been so different from 'normal'.  But with your guidance more relevant. I don't want to go back to normal. We had come to accept hate, gun violence and rudeness as normal. Mass shootings were a weekly occurrence."

A conversation with Jaimie Deye on Holy Saturday.  She was actually quoting the presiding bishop in a news interview. He was asked what the bible says about the pandemic?  Bishop Curry said, "Faith isn't about knowing all the answers.  Faith doesn't have answers.  Faith isn't knowing that you are going to be safe.  Faith is about love.  Faith is loving others more than you love yourself."

Will Finnegan said, "We have all had our ups and downs, wondering what tomorrow holds.  But, God is not done with us.  Until he calls us home, we have a purpose.  God is not done with me.  That's the hope that I cling to.  I have a purpose."

Jennifer Vasquez said the modelers remind her of the prophets; not fortune-tellers but experts telling us what will happen if we don't change our ways, pleading with us to change to prevent harming others.  The "normal" we've known has been unacceptable for too long; this crisis softens people's hearts and amplifies the cries of the vulnerable.  
We closed St. Paul's earlier than most.  We suspended Sunday services two Sundays before the governor's Stay at Home order.  When other parishes in town were still holding services, including Episcopal ones, we didn't.  I can safely say no one caught COVID from St. Paul's.  In fact, no members of the congregation have caught COVID in the time since, that we know about.  We flattened the curve to zero and this is worth celebrating!

We will never know what might of happened.  Who might have gotten sick, or died.  How many lives did we save?  How many funerals would I be doing?  Would one of the funerals be mine?  We will never know these answers.  The world doesn't work by should have—could have—would have— rules.

The world works by love, or not.  By prayer, or not.  By action, or not.  Our faith is fueled by love and hope.

"Christ is Risen!" is deeply profound because hope prevails over despair.  This is the Easter message.  This is a time when the message is perhaps the most relevant of our lives.  Hope prevails!

Happy Easter! Amen.