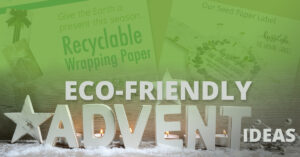 The St. Paul's Environmental Team has assembled some sustainable ideas for the Advent season.
During each week of Advent, the group will bring awareness to local groups, thoughtful blogs, and small businesses doing their best to make the world a better place. During this time of preparation, let's be thoughtful in our planning for this important season. Ideas will be shared in The Communicant, and on our social media pages. Please engage on our social pages and feel free to share your own ideas and sustainable practices.
WEEK FOUR
Advent Week 4
Smart Recycling Practices
 Keep Toledo / Lucas County Beautiful offers information on recycling some of the most challenging items of the season, including Styrofoam and Polystyrene, electronics and batteries.  For a KTLCB's Recycler List, click here.  Drop-off locations for Styrofoam will be announced in early 2021.
Previous Weeks in Advent…
WEEK THREE
Advent Week 3
Zero-Waste Baking and Eco-Friendly Holiday Meal Planning 
The blog Honestly Modern offers many alternative ideas to products and storage ideas that use wasteful packaging.
The Environmental Magazine shares some simple ideas to make your holiday dinner a little more friendly to the environment, including shopping locally, buying practically, and avoiding meat when possible.
WEEK TWO 
Advent Week 2
Consumerism leads to increased land-use and deforestation through the production of an ever-increasing demand of goods.
The Buy Nothing Project has a different approach. Its mission is about offering people a way to give and receive, share, lend, and express gratitude – without spending.
For a local, private facebook group, click here.
WEEK ONE
Advent Week 1
Recyclable Wrapping and Gift Ideas from Local, Sustainable Small Businesses
Eco-Friendly Wrapping
Did you know that most wrapping paper isn't recyclable? Here are some beautiful and fun alternatives to traditional holiday wrap:
According to Keep Toledo / Lucas County Beautiful, "4.6 Million pounds of wrapping paper is produced each year in the United States." So, KTLCB is selling recyclable paper in two beautiful patterns.  Click here for more info.
Other FUN and eco-friendly wrapping ideas, including fabrics and reusable bags, can be found here.
Sustainable Gift Ideas
Consider locally made gift ideas that also use and promote sustainable practices. Lucas County Green  has put together a great list, including:
Hyggelight (hoo-gah light) is a candle that has a second life. After the candle is burned, plant the seed label and grow a plant in the same container.  Wow.
Maumee's own Small Music Box sells new, used, and vintage instruments.
Jupmode is an apparel and gift shop of items that are designed and decorated locally.
OHMI (oh-my) Compost provides an unique curbside compost, kitchen-scrap pick-up service for area customers who don't want to put their banana peels, apple cores, and egg shells (for example) into a landfill.