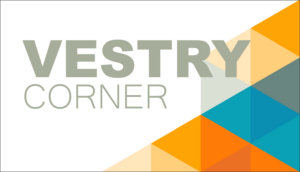 Each month your vestry will be providing an update on our activities. For a deeper dive into our minutes and the Treasurer's report, check our website under the "About Us/Vestry" tab.  If you want to reach any individual vestry member to provide feedback please call the office and Shayla can help make that connection or you can use the contact button below to email Vestry.  
We welcome your input.
We have been investing time and energy in restarting and rejuvenating our committees to get essential ministries and programs active.  Vestry has established liaisons to working committees including Christian Ed, Outreach, and Inreach.  Our goal is to provide support and direction so that all of our committees can start to move forward after the last couple of years.  A great example of this is the survey made available in last week's Communicant.  Christian Ed is actively moving forward in a strategic and thoughtful way in helping us program impactful educational opportunities for youth and adults.  Committees are a great way to contribute to St. Paul's and we encourage you to find something you are passionate about and contribute.  If you want to learn more please let us know by emailing us through the contact button below.
Vestry through our Building and Grounds committee has contracted with an energy consulting firm called Energility https://www.energility.com/ to assess our aging heating and AC systems and to make cost-effective, environmentally smart, and energy-saving recommendations.  This will lead to some major improvements in the future.  We are excited to be moving forward in setting the stage for these important improvements.