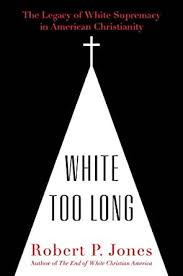 The Legacy of White Supremacy in American Christianity
Monday, November 2
7:00 PM
Everyone is invited to read this important book by Robert Jones and join in discussion about its ramifications.
From the book jacket:
"Drawing on history, public opinion surveys, and personal experience, Robert P. Jones delivers a provocative examination of the unholy relationship between American Christianity and white supremacy, issuing an urgent call for white Christians to reckon with this legacy for the sake of themselves, their Christian faith, and the country."
With integrity and vulnerability, Jones exposes the subtle but profound compatibility between white supremacist ideology and white Christian theology. This remarkably courageous, must-read book helps white Christians in America finally face the question Jones had to ask himself, 'Can you be "white" and "Christian"'?