Christian Education "explores how to transfer the whole Christian language system, which implies a way of life and spiritual development, from one generation to another" (Jerome Berryman, The Spiritual Guidance of Children).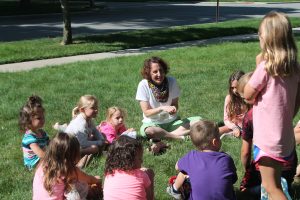 St. Paul's Episcopal Church seeks to come alongside children, youth, and adults as we all journey through life together.  Christian Education programming is provided to explore the stories of faith and how they relate to our daily lives.  Opportunities include Sunday School classes for ages 3 through adults, women's and coed Bible studies, intergenerational events, retreats, and much more.  Please contact our Director of Christian Formation, Dr. Jennifer Vasquez, Deacon ELCA, for further information.
Sunday School
Sunday School takes place most Sundays during the school year between the worship services from 9:00-9:45 AM.  Classes are divided according to age or developmental level, although at least once a quarter we hold intergenerational lessons in the parish hall.
Godly Play (ages 3 through 5th grade): Godly Play is a Montessori-based religious education curriculum that uses hands-ons manipulatives to tell the stories of God's people.  Children wonder about the stories together and then respond through self-selected work opportunities.  Teachers: Michele Alexander, Michelle and Marty Baker, Jennifer Hoelzer, Julie Kenyon, Adriana McNally, Emily Ramge, Lindsay Sachs, and Jennifer Vasquez.
Junior High Class—Grades 6-8
The junior high class will learn about faith topics in fun ways that also challenge their growing abstract thinking.  The junior high class meets in the junior high room in the basement and is led by Dr. Tara Robinson.
Senior High Class—Grades 9-12
Senior high students are invited to join the adult class in the Skylight Room.
Adults
Adults continue to be active disciples of God, learning about a variety of topics through our Sunday School series, "Just ASK: Adults Seeking Knowledge," which meets in the Skylight Room.
Intergenerational Lessons
December 2: Advent Workshop
March 3: Lent Festival
Adult Education Programs
Bearings: Adult bible study led by the rector, Wednedays at 6 PM, as scheduled
Men's Bible Study: Saturday mornings, 8 AM, Charlie's Restaurant in Maumee
Children's Chapel – Ages 3-6
Children's Chapel is available on the 2nd and 4th Sundays of the month during the school year.  Beginning at 10:00, children are introduced to the liturgy through a child-friendly explanation of the parts of the worship service. Children sing, pray, collect an offering, and experience a Bible story.  During the sign of peace at the 10:00 worship service, the children are led to the sanctuary so they may experience the rest of the service with their families and congregation.  Adult teachers include: Michelle Baker, Emily Ramge, and Jennifer Vasquez.
Liturgical Arts
As part of learning to lead worship and experience God through the arts, all ages are invited to participate in our Puppet Ministry, Liturgical Dance team, Chimes Choir, or Children's Music Program!