Youth Mission Trip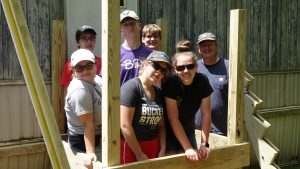 The Sr. High Youth Mission Trip was June 2019.  We took twelve teens to Beattyville Kentucky.  We installed a metal roof on a mobile home, repaired a hole in the kitchen floor, and built a new staircase/deck to the back door.  The owner of the house was Ralph.  He had recently been married, but his wife would not move into the house with her small children until the hole in the floor was repaired. 
The participants were:  Eric Board, Juliet Burns, Gwyneth Burns, Hannah Conley, Josh Dalton, Leah Kenyon, Brandon King, Ben Kleparek, Ben Martz, Grant Swiergosz, Austin Strayer, Bekah Vasquez.  The chaperones were Paul and Lori Board.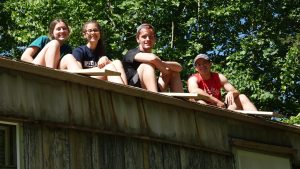 We stayed with Leeroy on his farm.  He runs a food pantry called Kentucky Small Farms Project.  Leeroy used our registration fees and purchased the supplies for our projects.  We stayed in a house built for mission teams. There was a boys room and girls room with bunks.  Lori and Paul slept in the living room.  We prepared our own meals, but Leeroy gave us a phenomenal cookout the last night. We hiked the Natural Bridge and ziplined the Red River Gorge.   
Next year's mission trip will be June 14-19, 2020 in Beattyville.  Our day of play will be white water rafting the New River in Fayetteville, Virginia.   
Please enjoy the video: